Experimental Image Making Course (Adults)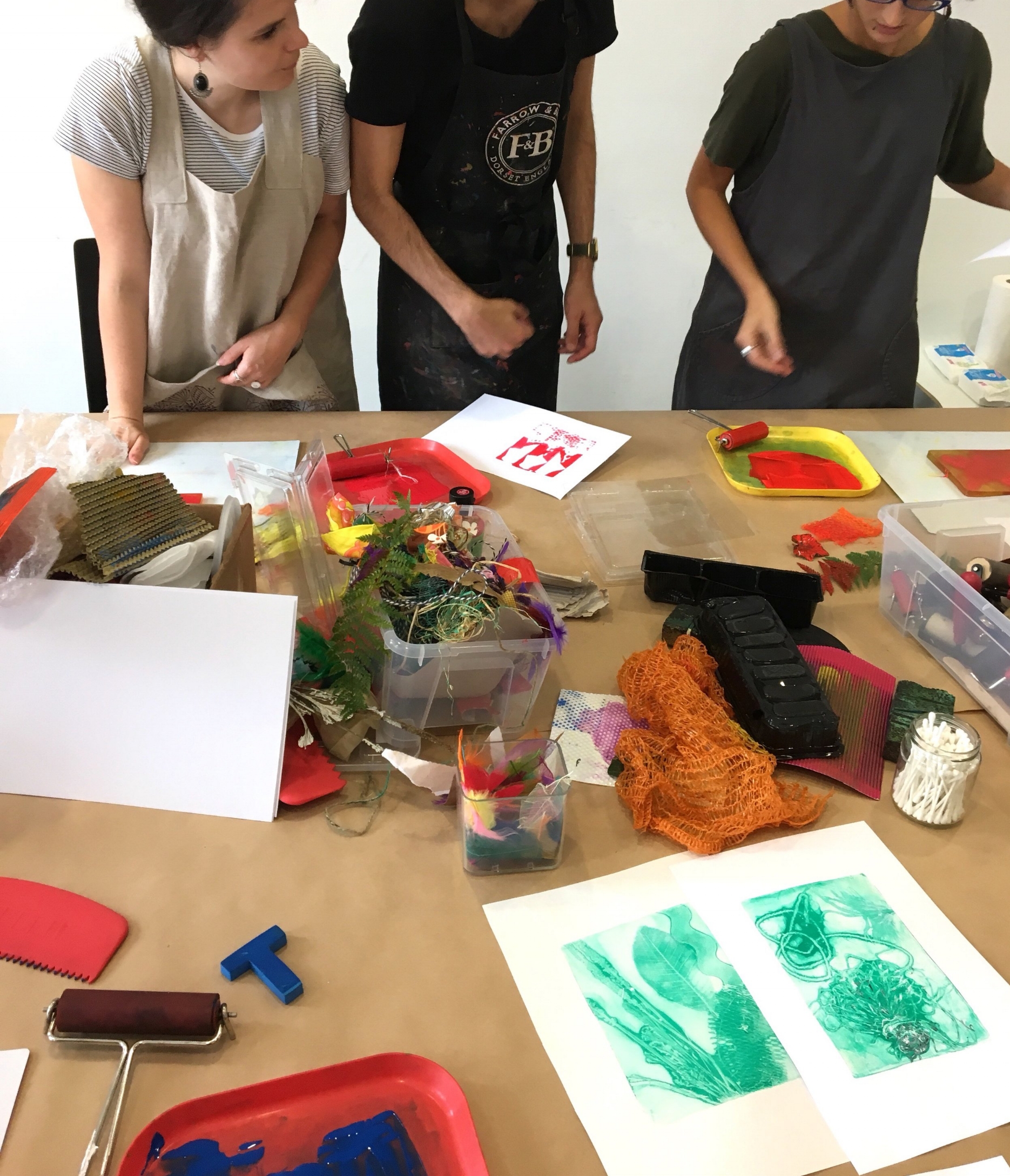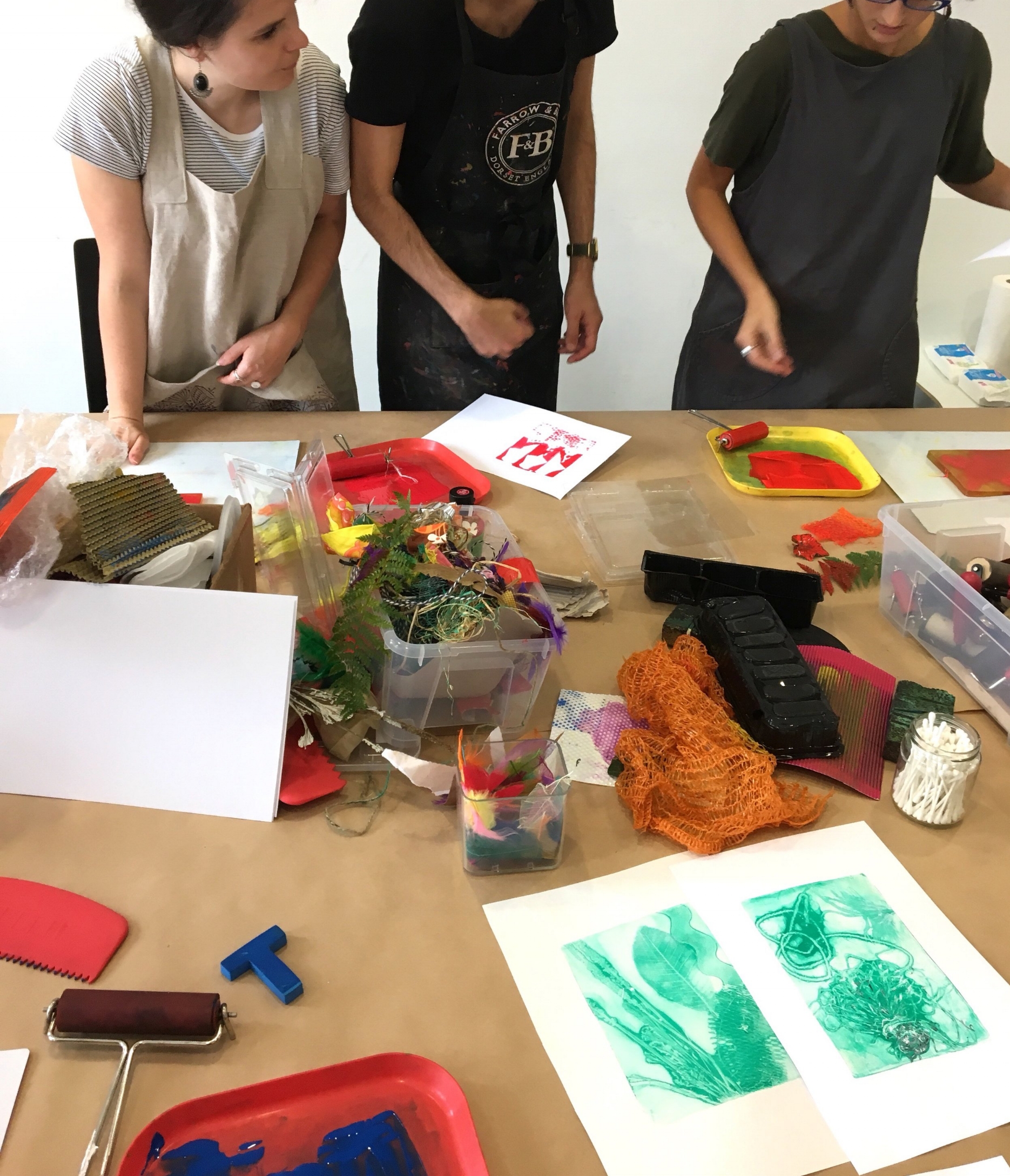 sold out
Experimental Image Making Course (Adults)
Experimental Image Making for Adults
Starting September 10th
THIS PROGRAMME IS NOW UNDERWAY, PLEASE JOIN THE MAILING LIST TO FIND OUT ABOUT WINTER SESSIONS.
For curious adults with some recent creative arts experiences. Come and keep alive your creative spirit and grow a wild and varied art portfolio bursting with your unique process based art!
Nurture your creativity through new processes and playful ideas. Join us in our exploratory and mindful approach to art making, on a journey through a range of 2D materials and gently guided processes. Commit weekly to being open and playful with art discoveries and take home many ideas for continued self-expression. Perfect for those who are curious and wishing to invest in slowing down and experimenting with new ideas and tools. Further develop transferable life and work skills, such as to help with strengthening your visual literacy in understanding of the world, ability to focus on process not outcome, confidence in responding to your own intuition, as well as new ways of problem-solving, and learning to let go. We will research ideas in wabi-sabi to build a love of the imperfect into our art processes.
Price: 12 WEEK COURSE: 425 Euro (505,75 inc USt.) includes a wide range of high quality art materials, use of the studio's art library and tea/ coffee.
Experimental Image Making
On this process-orientated course, we will mindfully immerse in the moment and the tools and materials around us. We will work across a variety of scales and 2D/ 3D surfaces such as paper, card, wood and fabric, with conventional and unusual tools and surfaces. The creativity tutor will introduce, (or for those with some direct experience of a process, offer extensions) a new theme and process(es) each week and invite a playful approach to image making, working from the observed and imagined, through layering, scratching, tearing up and transforming work 2D/ 3D as we go. Across the 12 weeks as relevant to our explorations, we will discuss artists, designers and illustrators work. The course will respond to the developing interests of the group, and will include many of following processes;
Printmaking: Rubber stamps, Gelli Plate with stencils, lettering & type, onto different surfaces eg wood, fabric, clay
Wet & Dry Photography: Chemigrams, Photocollage, embroidered found photos.
Watercolour & Acrylic: Textured and layered painting, including using paint mediums and assemblage.
Drawing & Music: Exploring how we can visualise sounds through for example graphic notation and other means
Textiles: Slow stitching & visible mending, stitched collages, transfer experiments.
Image Transfer: Mixed media painting and collage work using solvent transfers, onto paper, fabric, wood, canvas
Testimonials about the course:
"I really looked forward to this class each week, a space for me to get creative and be in the moment, it was almost meditative, a peaceful space away from family life and quality me time! Each session brought new surprises and techniques that I had never tried before. I would highly recommend it." Gemma
"The Experimental Image Making class was fantastic! We covered a wide range of image-making methods while still allowing time to linger on techniques that really absorbed us. Harriet is excellent at balancing a structured syllabus with student-led learning. As a graphic designer working digitally, it was a delight to let my creative side get messy in the real world. The class gave a new source of creative expression and inspiration that I was able to bring to my design work. I truly looked forward to my class each week. It was an intimate and supportive space to explore and create. " Chantel
"Harriet has the unique ability to bring creativity and innovation out in everyone through encouraging her students to embrace experimentation. She managed to awake my inner child: After a while I found myself in a total state of flow, experimenting with the material I was given and being totally immersed in inventing new results. This experience helped me to calm my mind and structure my thoughts. I am now trying to find ways to bring my re-discovered experimental nature back to my daily work as a strategy consultant." Julia
COURSE DATES AND INFORMATION:
Tuesday 10th September - Tuesday 10th December 2019
12 x In Person Classes : Tuesdays 19:00-21:00
September 10, 17, 24
October 1, 22, 29
November 5, 12, 19, 26
December 3, 10
Class Holidays- NO CLASS 8, 15 October
Location: Prenzlauer Berg, (Senefelderplatz U2 / M2 tram 4 mins walk)
Price: 425 Euro + 19% USt = 499,80 Euro. (includes all high quality, and rich variety of class materials, access to the studio's art library, holiday week mini-project, tea/coffee.)
Language: English.
Limited number of places available, so early booking advised. For the first class: Bring a tiny collection of objects that fit into a matchbox , and a small note/sketchbook.

Tutor: little art Founder Harriet Poole